Desert Landscapes of the Southwest
Traveling the Grand Circle, American Southwest Landscape Photography and GPS coordinates
Exploring the American Southwest Landscape through Photography. Where will you be coming from? From this point I will write as if you are coming from the east via I-40. I have been to the area 13 times over the last thirteen years. I think it's impossible to see everything in one trip. But if you have two weeks you could stand a chance to see a lot of it. Some points of interests on the map below are clickable and will take you to the individual photo galleries. If you would like directions to some of these places, just like my facebook page and send me a message. I will reply back to you with directions and or GPS coordinates. I usually will either come up hwy. 191 from I-40 past Canyon de Chelly, or exit hwy. 371 and go to the Bisti Badlands. From there I will cut up to Farmington and take hwy 64 to hwy. 191 and head north. Since I have done the trip so many times I usually skip Monument Valley and head straight for the Canyonlands Needles District. Then on to Moab to visit the Arches national Park, Canyonlands Island in the Sky area and Dead Horse Point State Park. But later on in this story I will make some good suggestions of other hidden or off beaten places to visit along hwy. 191 as well. You can easily expect to travel 1200 miles during your round trip of all the national parks in Southern Utah and areas in Northern Arizona alone. So I think it's always good to plan the trip out well in advance knowing I usually change my mind as soon as I get here depending on the weather and sunlight. Being a landscape and nature photographer, the perfect light I seek will take precedence over me seeing everything since I know full well which ever trip I am on will never be my last here. I keep coming back usually year after year since I was bitten by the bug on my first trip to the area in 2000.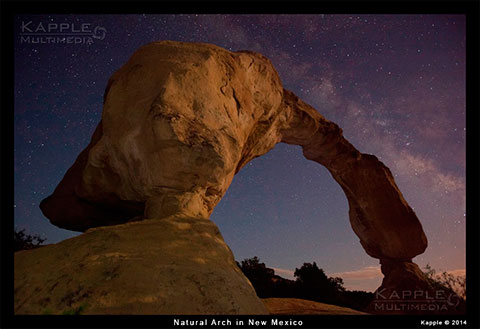 Cox Canyon Arch, Aztec Arch
Cox Canyon Arch, also know as Aztec Arch is located about 4 miles south of the Colorado board and just north of Aztec New Mexico.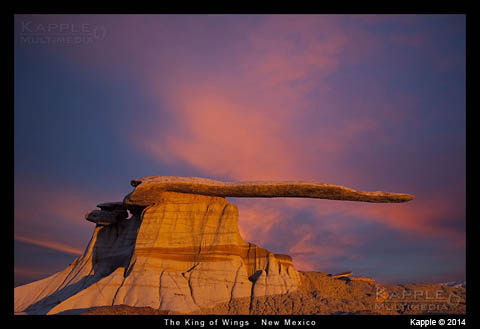 The King of Wings
The King of Wings location has been a guarded secret to help preserve it.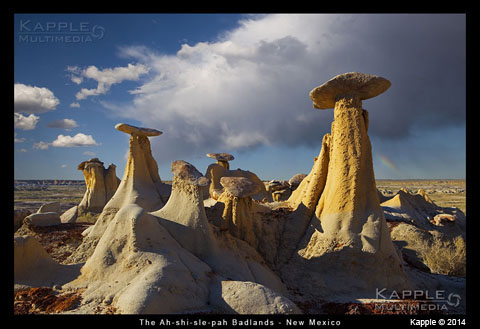 The Ah-shi-sle-pah Badlands
Another area very similar to the Bisti badlands are the Ah-shi-sle-pah Badlands.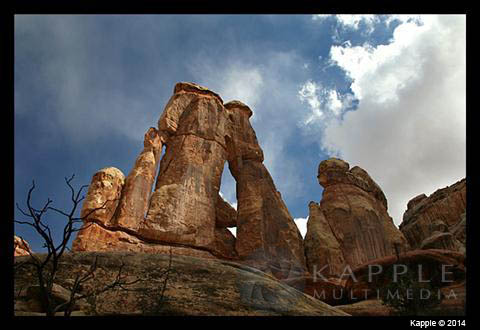 Canyonlands Needles District
Next I drive to the Canyonlands Needles District and expect to spend two to three days here.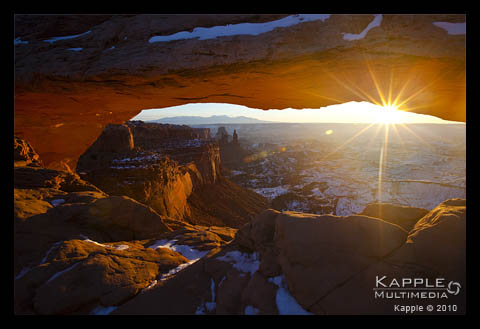 Canyonlands Island in the Sky District
You can cover this in a day. Unless you are trying to get great shots for sunset and sunrise.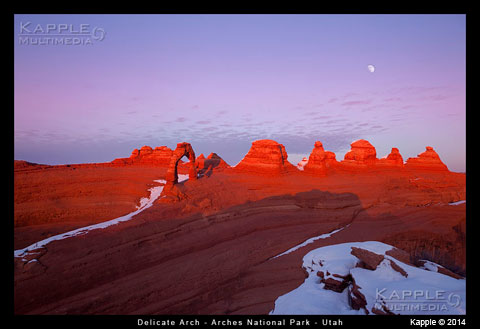 Arches National Park
From here you will want to head into Moab to see the Arches National Park,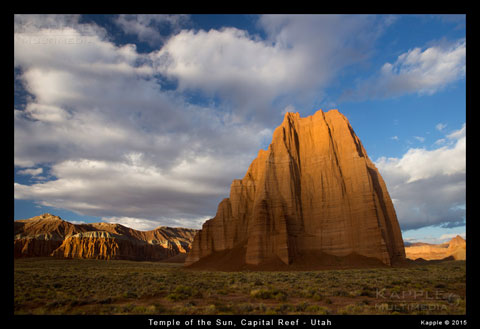 Capitol Reef and Factory Butte
Driving on HWY 24 you will come to Factory Butte and Capital Reef National Park.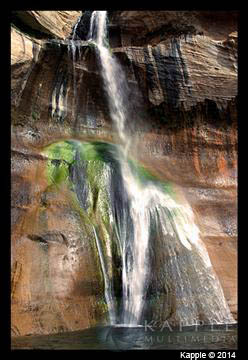 Lower Calf Creek Falls
Further down past Boulder you will approach Upper and Lower Calf Creek Falls.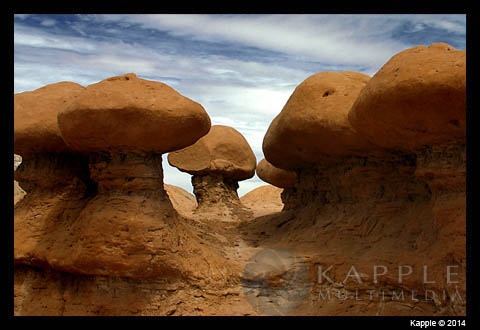 Desert Landscapes in the Escalante Area
Gas up and stock up on supplies and head up to I-70 to make your way to Escalante.
Zion National Park
I've only visited Zion twice over my 12 trips to Utah. The first time was my very first trip to the southwest. Back then I jumped right in and hiked up to Angels Landing. I just returned from my second visit where I finally got to hike to the Subway area at Zion. Though I think Zion National Park is beautiful, it is just too crowded for me personally. I do not like to be dependent on a shuttle bus system to take me to trail drop off points within the main area of the park. But some of the best areas of Zion are well outside the beaten path. Getting into the Subway area at Zion is pretty tricky, first you have to get a permit. You can get them online 3 months in advance of your visit. Or you can wait in line and be there right when they open.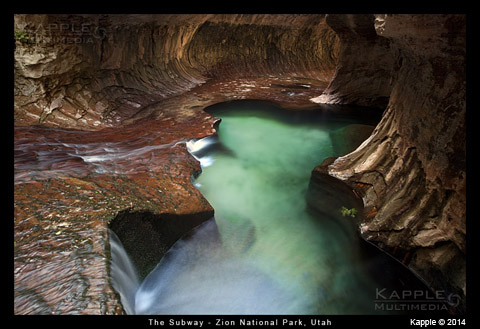 Bryce National Park
Heading west on hwy 12 just past Tropic lies the entrance to Bryce National Park. Bryce is famous for its unique geology of red rock spires and horseshoe-shaped amphitheaters. It is the uniqueness of the rocks that caused Bryce Canyon to be designated as a national park. These famous spires, called "hoodoos," are formed when ice and rainwater wear away the weak limestone. I had a great time at Bryce National Park. Being on the road and hiking and camping for two weeks, this was a great place to relax and kinda take it easy. It is very tourist oriented which can be a bit of a pain with all the visitors there. But it was a nice change of pace compared to me roughing it in primitive camping and eating MRE's all the time.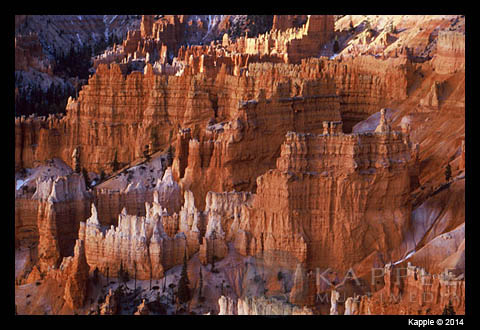 Cottonwood Canyon Road
Cottonwood Canyon Road is unpaved but a relatively popular cross-country route through Grand Staircase-Escalante National Monument, starting from Cannonville on UT 12, and eventually leading past Kodachrome Basin State Park and hooks up with US 89 near milepost 18. Some sections of the road are rather steep and narrow, but 2WD cars usually can make the 47 mile journey. The surrounding land has much of interest to explore. Grosvenor Arch is one of those areas. It is 30 miles from US 89 and 17 miles from Cannonville. This is a large double arch at the end of an isolated ridge of yellowish-white sandstone, and is one of the most photographed places in the national monument.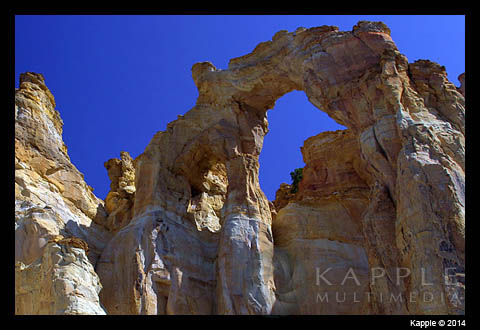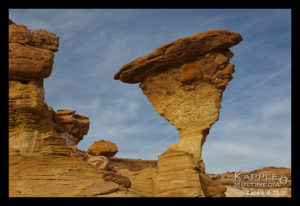 White Rock Canyon
White Rock Canyon is almost due west of the Wahweap Hoodoo's. To gain access to this area you will turn off at mile marker 13 on HWY 89 heading west from Page.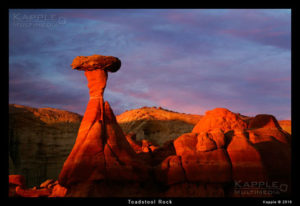 The Rim Rocks along HWY 89
The Paria Rimrocks are an amazing collection of hoodoos, badlands, and other interesting rock formations found in the area located between the Cockscomb Fault and the southern section of Cottonwood Canyon Road just north of US 89.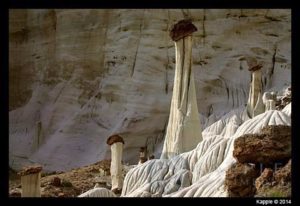 Wahweap Hoodoo's
After exploring this area, head east on hwy 89 and visit the Rim Rocks. It's an easy half mile hike to see them.
Coyote Buttes North and South
After Bryce you have two choices. You can go to Zion National Park, or head towards Kanab and go see many locations along hwy 89 leading to Page. Since I do not care for Zion National Park too much (too restrictive with busses taking you to trail heads) unless you plan on going to the Subway area, we will talk about heading towards Kanab and going to see the Wave at Coyote Buttes North. You will need to get permits to visit the Wave at Coyote Buttes North and the South area. Click here to see Coyote Buttes South Photo Gallery.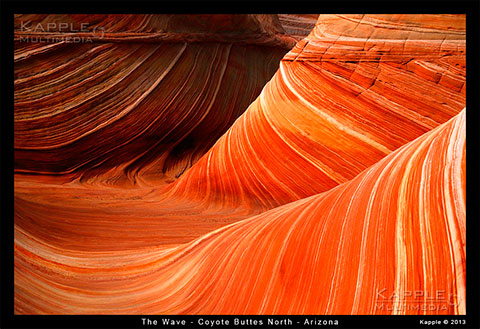 White Pockets Arizona
Directions to White Pockets From Kanab, drive 40 miles east on Highway 89. The turn onto House Rock Valley Road is located on the south side of the road (right side driving from Kanab). It is located between mile markers 25 and 26, before a sweeping left hand curve in the road, prior to a guard rail protecting the curve. Slow down and turn right just before the guard rail. This north-south running road is House Rock Valley Road.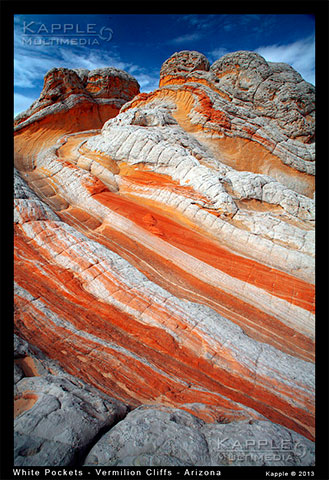 Antelope Canyon
One of the most visited areas on a personas travels to the southwest is Antelope Canyon. I have been here several times in the past. But it is getting to the point now where overcrowding is a problem. This coupled with photo workshops makes it difficult to really get a secluded spot of your own. Expect to find your spot and wait for people to move out of the way. Patients will be a virtue here. Best times to go in my opinion is April or October. Temps are perfect. You need to be here around 11 to 2 for the sun to be directly above to light this place up. Make sure you go to both the upper and lower Antelope Canyon areas. You have to pay for each one, but most people skip out on visiting the upper canyon.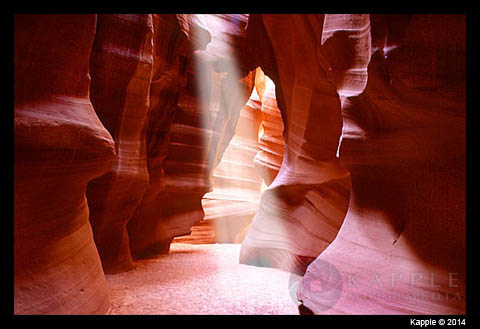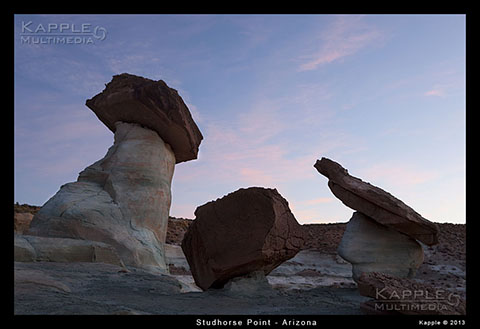 Stud Horse Point
Stud Horse Point is just outside of Page Arizona overlooking Lake Powell.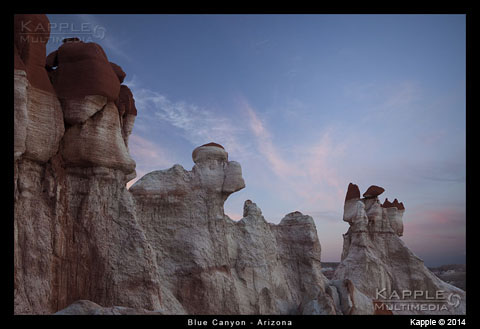 Blue canyon
Blue canyon is located on Hopi India reservation land of hwy 264, north east of Coal Mine Canyon.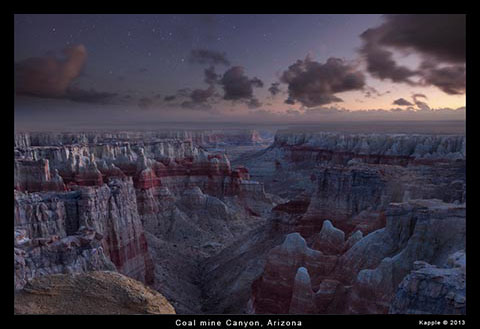 Coal Mine Canyon
Coal Mine Canyon is fifteen miles southeast of Tuba City in Arizona.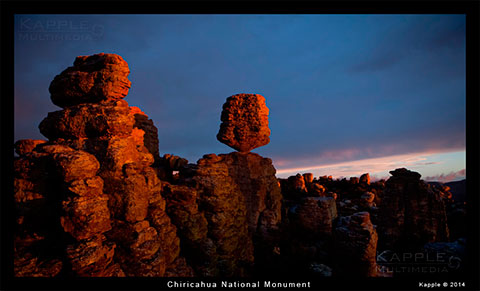 Chiricahua National Monument
Located in the Chiricahua Mountains in southeast Arizona, it's a 13 hour drive for me to reach the park entrance from Dallas.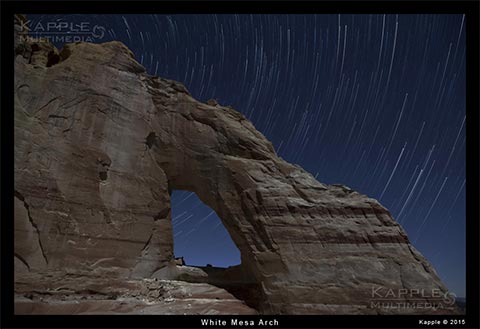 White Mesa Arch
White Mesa Arch in Arizona directions,  From Page drive south on Highway 89 until you reach the intersection with route 160.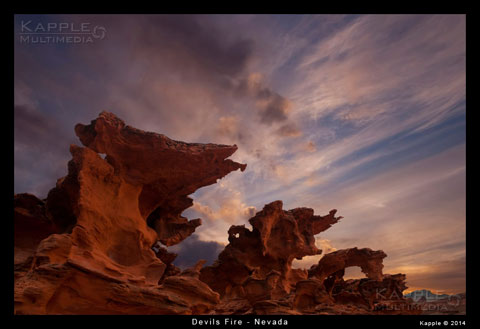 Devils Fire, Hobgoblins or Little Finland
The place is known by three different names. The correct name is Devils Fire. Some call it Hobgoblins, and some have called it Little Finland.
Banff and Jasper National Park
Images from my recent trip into the Banff and Jasper National Park area of Canada. Below are links to download two high res maps of photo locations in Banff and Jasper National Park. Feel free to download and share with anyone. All the info I gathered has been placed on this page so book mark it for future reference. Click on the icons for expanded views for tips on the photography spots in Banff and Jasper National Park I had picked out for morning or evening locations. To view Waterfall locations in Banff and Jasper National Park, Click here.
Our time in Banff was a mere nine days. And as usually, I tried to cram as much into this time as possible. In my opinion, if you only have a week, focus your time on just one of the three parks in the area. I was only able to explore some of the waterfalls in the Jasper area. But I have already dedicated time to return to the Banff and Jasper area next year.
We flew in to Calgary real late and made it into Banff around 2am. It takes about an hour and a half to get there. Woke up at 6am to get my first morning shot. Coming in at night and not knowing the layout, my first spot was the Vermillion Lakes area. It's only five minutes away with numerous shooting locations. I came back here several times to shoot both sunset and sunrise. There are three different lakes here so take your pick. I personally liked the swampy marsh areas best near lake number one.
The second location that is closest to Banff I hit pretty hard was Two Jack Lake. Banff Ave. will take you heading south to Lake Minnetonka scenic drive. From there you will see the road to Two Jack Lake which is only 6km from the turn off.
Two Jack Lake is both a sunrise and sunset location. I was greeted with foggy mornings a lot but got lucky twice here getting some great sunrise shots. A waterfall called Cascade Falls will great you to your left on the side of a mountain as you head into this area. But the hike up to it to get up close and personal is straight up. It's a very step hike.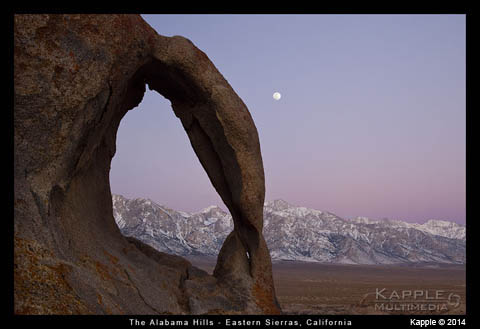 Alabama Hills, Eastern Sierra Mountains
There is so much info out on the Alabama Hills that I am sure by now you readers have already read, that I could not tell you anything new about this amazing place.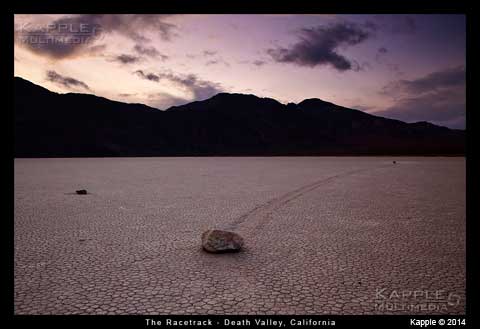 Death Valley National Park Landscapes
The valley is a long, low depression set in largely barren and unpopulated country of desert plains and rocky ridges, east of the Sierra Nevada Mountains.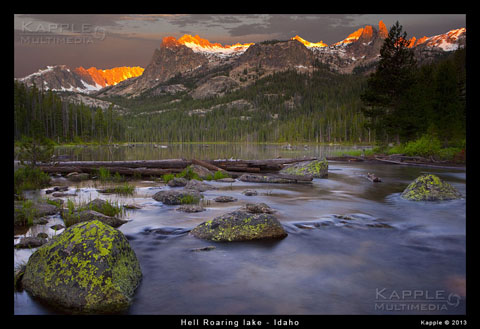 Idaho Landscapes Photo Gallery
The drive was a long one from Dallas Texas. I left after work and drove to Tulsa to pick up my dad. From there we drove straight to the Eastern side of Idaho.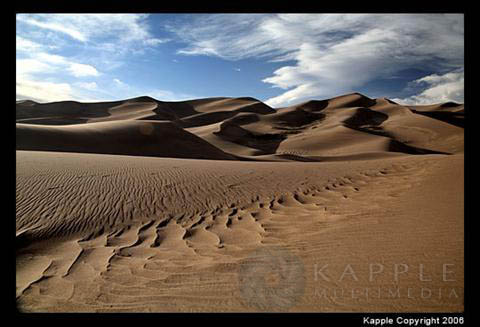 The Great Sand Dunes National Park Landscapes
The Great Sand Dunes of Colorado are seeming totally out of place at the edge of the snow-covered Rocky Mountains, these dunes of pure golden sand cover an area about 7 by 5 miles and reach heights of 700 feet above the floor of the flat San Luis Valley, making them the tallest dunes in the USA.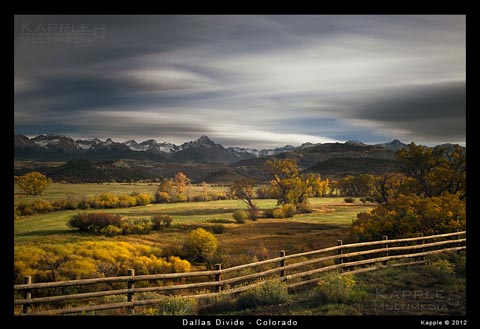 Colorado Landscapes, Fall Colors in Southern Colorado
Well for the past 5 years I have been lucky and nailed peak colors. From Wyoming to Canada, unless you can travel at a moment's notice, you have to guess and plan things out months in advance. You basically have a 4 week period to guess when each area will be at the best potential for fall colors.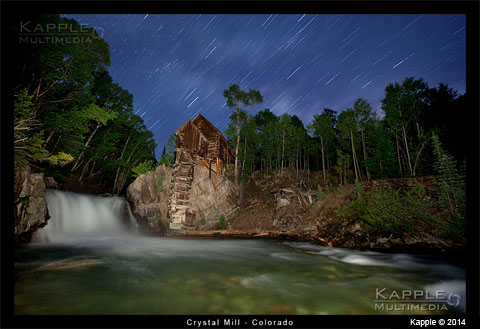 Crystal Mill, Colorado Ghost Town
9 hours…It started off like many other of my long drives out west. Getting out of flat ugly boring Texas, why do I live in this state? I often ask myself every time I leave to go on a photo journey. My destination is the Crystal Ghost town in Colorado to photograph the mill on the Crystal River.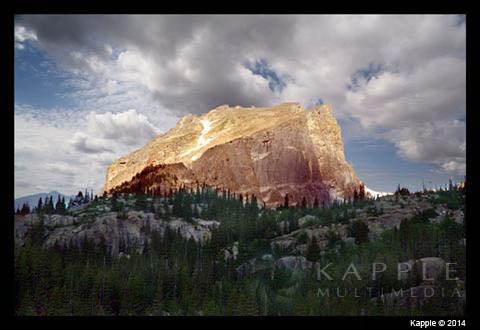 The Rocky Mountain National Park
Rocky Mountain National Park is a national icon — its rugged mountains carve out a skyline that captures the American imagination and serves as both protector and passageway to the west. One-third of the park is above timberline, the 14,255-foot flat-topped summit of Longs Peak included; there are 71 peaks here that top out above 12,000 feet.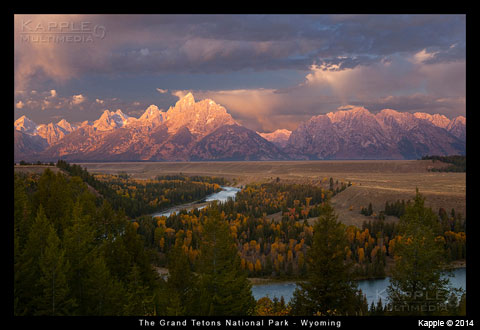 The Grand Tetons National Park and the Fall Colors
The Grand Tetons National Park is a great place anytime of year, but during the color changes of the fall the place comes alive. With both people and colors. This past year during October of 2008, I was lucky enough to hit the date for the peak color change.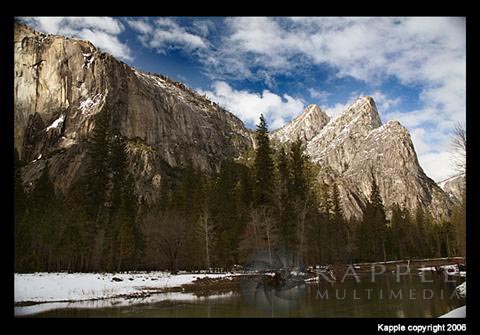 Yosemite National Park Photo Gallery
The exposed geology of the Yosemite area includes primarily granitic rocks with some older metamorphic rock. The first rocks were laid down in Precambrian times, when the area around Yosemite National Park was on the edge of a very young North American continent.