Heceta Head Lighthouse was a location off hwy 101 just outside of Florence. It's the most photographed lighthouse in the world and I did not plan to spend much effort on it. My sunset for the following day was to be spend along the Devil's Churn and Cook Chasm area. I spent the better part of the late afternoon in this area. It was the best sunset evening of the whole trip. Perfect dramatic clouds and thunder heads in the distance made for almost perfect shots.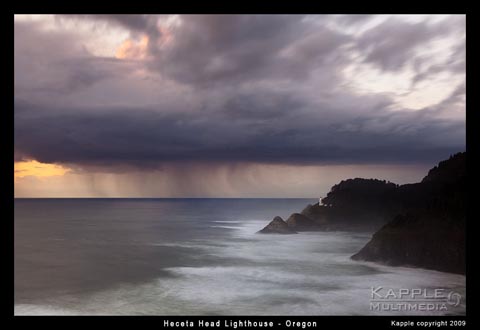 I've painted the arch and rocks and have it shot with star trails and since I was up all night doing this, my favorite shot is this one with the glow of the morning sun showing up with the long exposure. At the time, you could just barely notice the glow. But with a 30 second exposure, it showed up well here.
I must have shot this rock formation 20 times during the night. But it is one of my favorite night time shots from all the night shots I have done in New Mexico.
The sunset shot I chose for the waves that look like waterfalls is on up the beach area along West Cliff Dr. at GPS coordinates 36.95091, -122.043257. There are several outcroppings here that give you this effect so take your pick. But be careful during high tide. The rocks are covered with moss and seaweed in a lot of areas and you can easily be swept away off these rocks.
GPS location for the first arch is 36.951698, -122.031396