The Vila Velha State Park, near Ponta Grossa, Brazil, is famous for its strange prehistoric looking limestone sculptured rocks. Nick named the "lost stone city," sentinel-like sandstone figures resembling animals, humans and other shapes that can been seen in these unique formations. The strange rock formations are the result of sand deposits from when glaciers covered the area between 300 and 400 million years ago.
We stopped here on our way back from Iguazu Falls to Sao Paulo and stayed in the town of Ponta Grossa for the night. At the crack of dawn, we drove to the park only to be disappointed that they did not open until 8:30am. Seems all the parks I visited are not photographer friendly. Open at 8:30 and close at 6pm. This ruins the red warm light I am always looking for with my photography. But luckily we had thick fog that morning which made for some interesting photos. And I was still able to get some of the warm morning light after the fog burned off.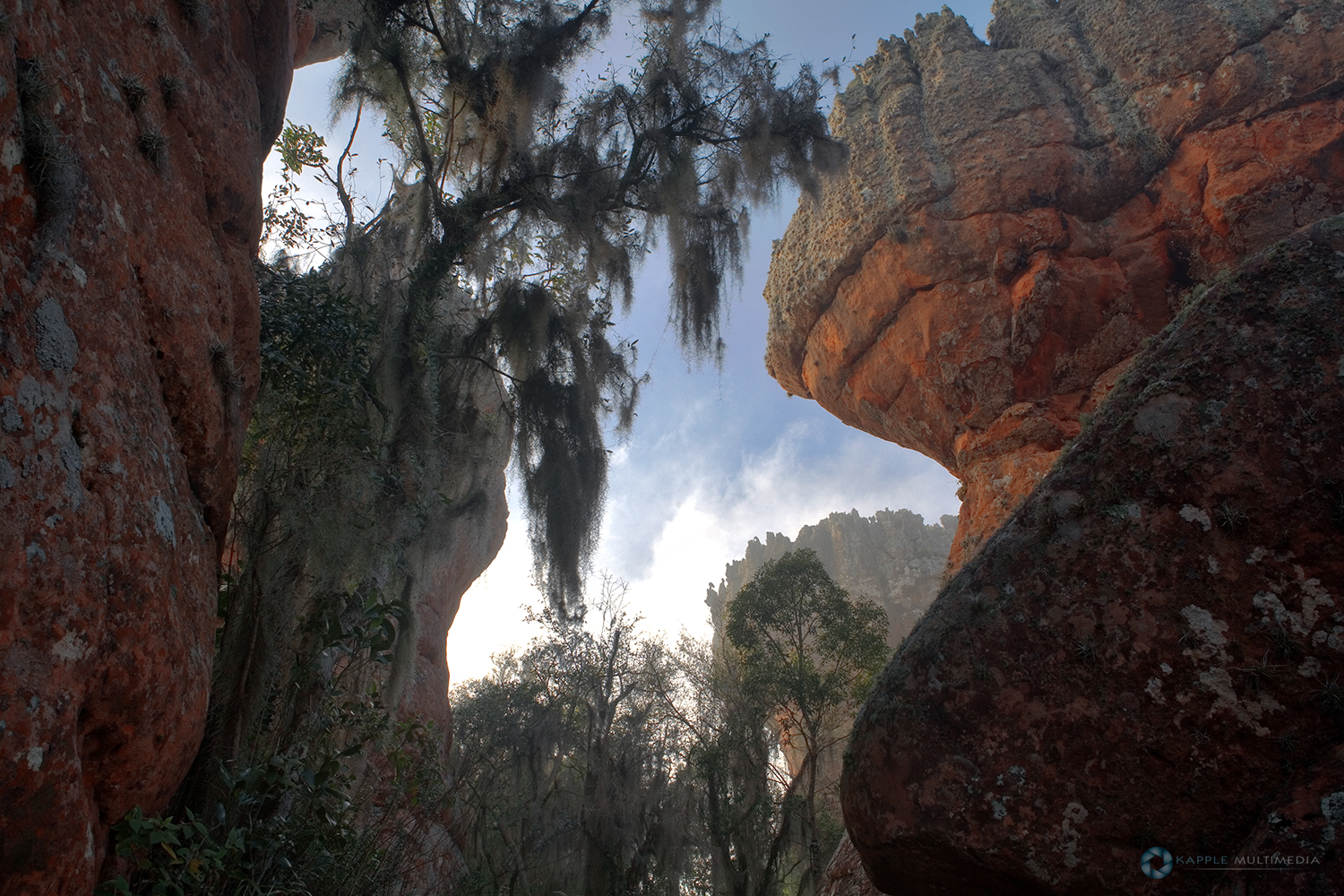 During the visit to Vila Velha state Park, you will have the chance to take a nice stroll through the forest around the park, and have a very close contact with nature, including some native animals and birds. Watch out for snakes, but I never saw any.
The tour in the Vila Velha state park includes a visit to 'Furnas', big holes in the ground that some believe to be made by huge meteors that have fallen on earth millions of years ago. I did not believe this to be the case. I believe they are just deep sink holes. But hey, their promo sounded better. You will be able to descend by elevator to the bottom of the 'Furnas' and appreciate its clear 50 meters deep waters. The place is full of native legends and superstitions.
Located on BR 376 between Curitiba and Ponta Grossa. Take BR 277 to BR 376. Its about 65 miles from Curitiba and 28 from Ponta Grossa. (80 km from Curitiba and 20 km from Ponta Grossa). BR 376 is one of the nicer highways you will be traveling. Most of the time on BR 277 it is single lane most of the time and you are fighting to pass poor performing semi trucks that can barely make it up the hills…all the way to Igauzu Falls.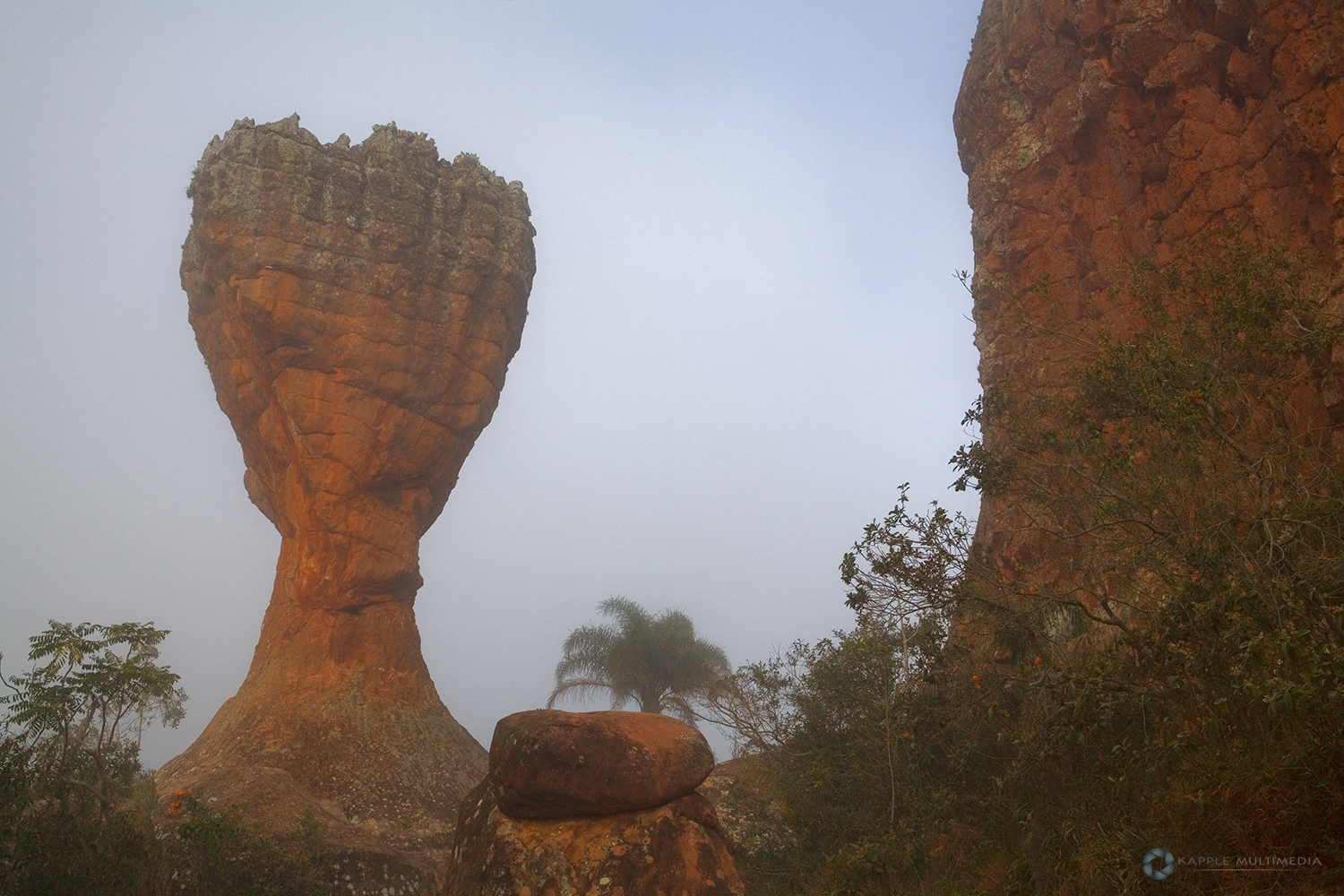 The park is split into two main areas where the rock formations are. A bus takes you from the parking lot to the trail head. Trail is 1.5 miles on the rocky side and about 2 miles on the forest side. I spent a lot of time in the forest area of the park. Most people seemed to pass this up but it is made up of a thick undergrowth of typical plants you find in most rain forests.
Other info I found on the net that is useful.
1. There is lodging in the city of Ponta Grossa, that is nearby and offers good infrastructure.
2. For who wants to be practically inside of the Park, there is camping.
3. You must visit Furna1. It is a deep crater that has a lake in it. The descent is made in a panoramic elevator. It is very nice.
4. The Park is full of 'quatis'. It's kind of cute but they are wild. So don't touch them, because they can bite.
5. The walks in the Park and the Caverns cost $12 for the entry fee
6. If possible, visit Guaterlá Park, that is nearby.
7. Keep your eyes open, there is a lot of snakes in the region. There are many signs warning.
8. "A good walk in Vila Velha (PR) is "BURACO DO PADRE" (PRIEST'S HOLE). It is a hole – literally – on a hill, that has a waterfall that comes from one of the walls. The access is complicated, but it is worthwhile. Get information at the entrance of the city on how to get to there. You go by car to a certain point and then it proceeds on foot (about 500m) edging a stream, go by a grotto and arrive at the waterfall – there is a swimming pool to swim in".