Over the summer, I spent 12 days exploring the numerous waterfalls along the Columbia River on both the Washington and Oregon side. First waterfall I explored was Panther Creek Falls, which is a 130-foot waterfall on Panther Creek in the Wind River Valley in Skamania County, Washington. I arrived here very early in the morning and scramble down the step cliff. The coordinates are 45°52'01.2″N 121°49'43.5″W, and was very easy to find. There are two waterfalls in this location and you just need to be careful since the some of the trail is steep and slippery in a few places. But is a must see waterfall on the Washington side of the gorge.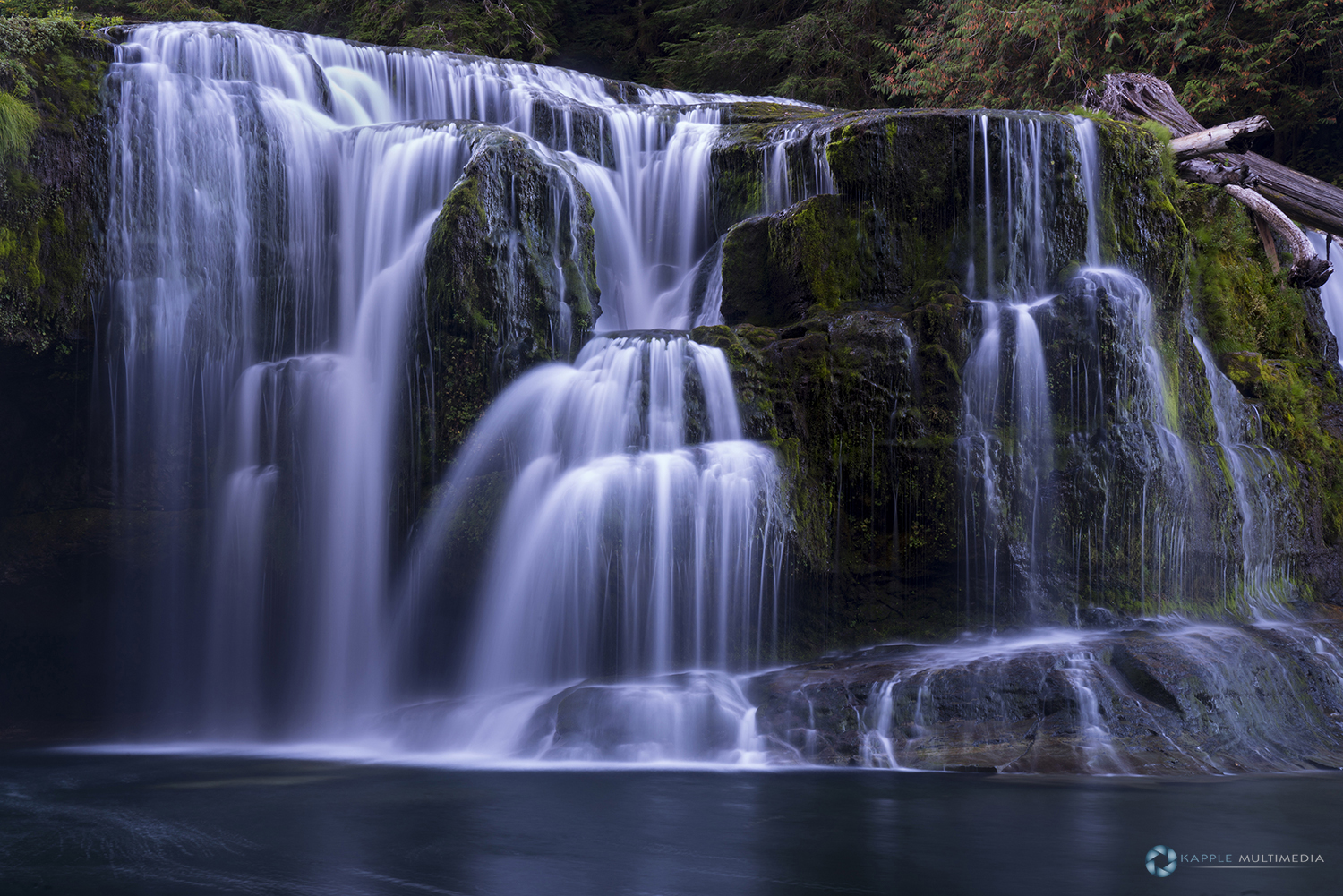 Lower Lewis River Falls
Located here 46°09'16.4″N 121°52'49.1″W, Lower Lewis River Falls is a 200 ft wide cascade. Directions: From Cougar, Washington drive east on Highway 503 for about 33 miles to the campground. Just past the Pine Creek Information Center the highway intersects with Forest Road 25. Keep right at this intersection and stay on Highway 503. At the Forest Boundary Highway 503 becomes Forest Road 90. Continue east on Forest Road 90 to the entrance to the campground which will be on the right after you pass mile marker 28. The entrance is well signed and the waterfall is easy to reach.
Falls Creek Falls
Location: 45°54'21.4″N 121°56'27.7″W
Another very easy to access waterfall, The hike is a simple 3.4 mile out-and-back to the base of the waterfall. You can hear the roar of the falls well before you see it. I had climb up the cliff, the lowered myself down a ways right in the middle of an ant colony for this shot. Luckily they did not bite, but the ground was covered in pine needles and juts had to be careful not to lose my footing as I took this shot.
Really liked how just a little bit of sunlight showed up to hit the left side of this shot. This area is pretty heavily traveled and there were lots of people at the main viewing area. The hike in follows a section of Falls Creek that winds through some very dramatic terrain. The waterfall is 335-foot tall and falls into the creek in three stages. Many good opportunities to shoot this waterfall from different angles.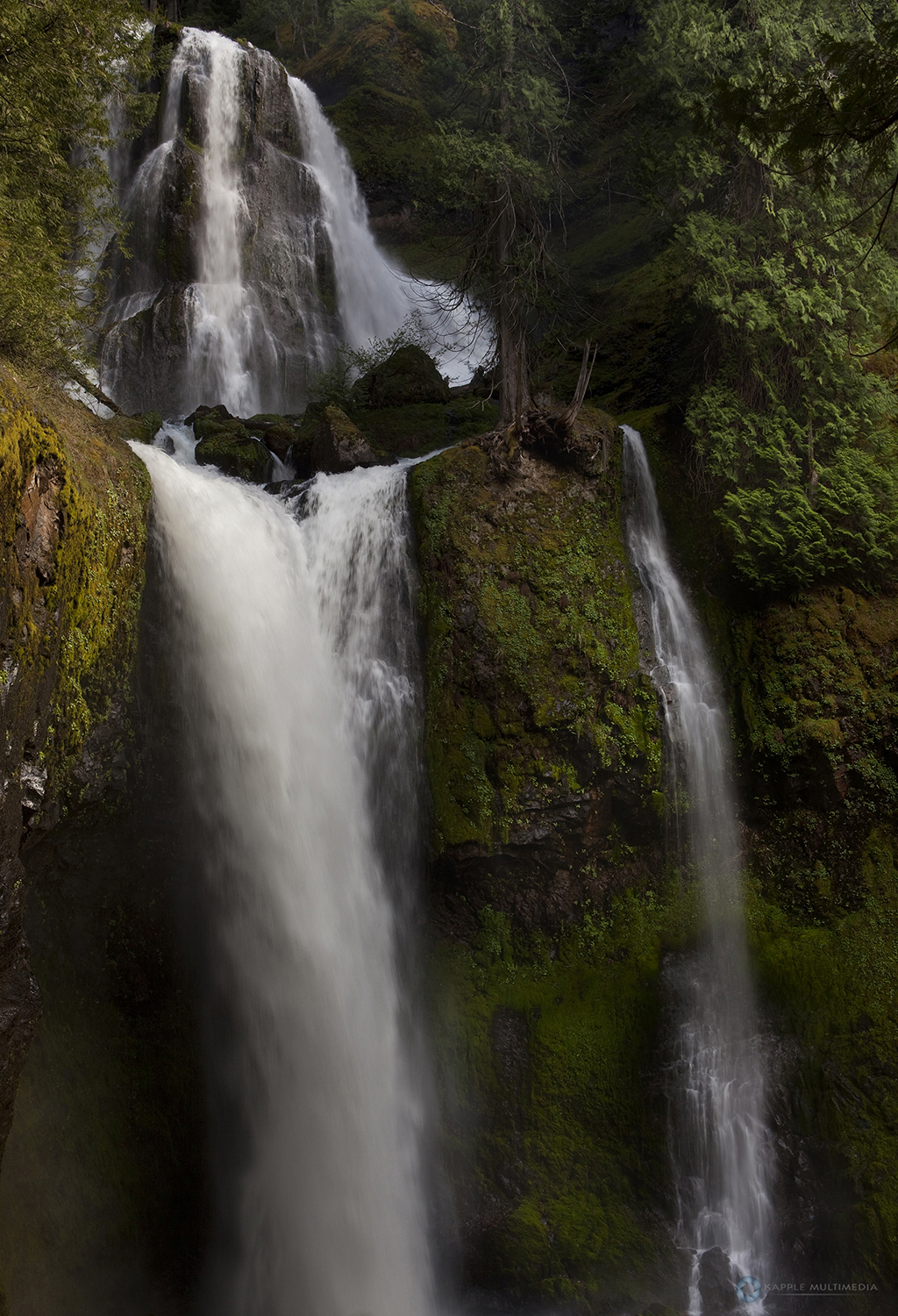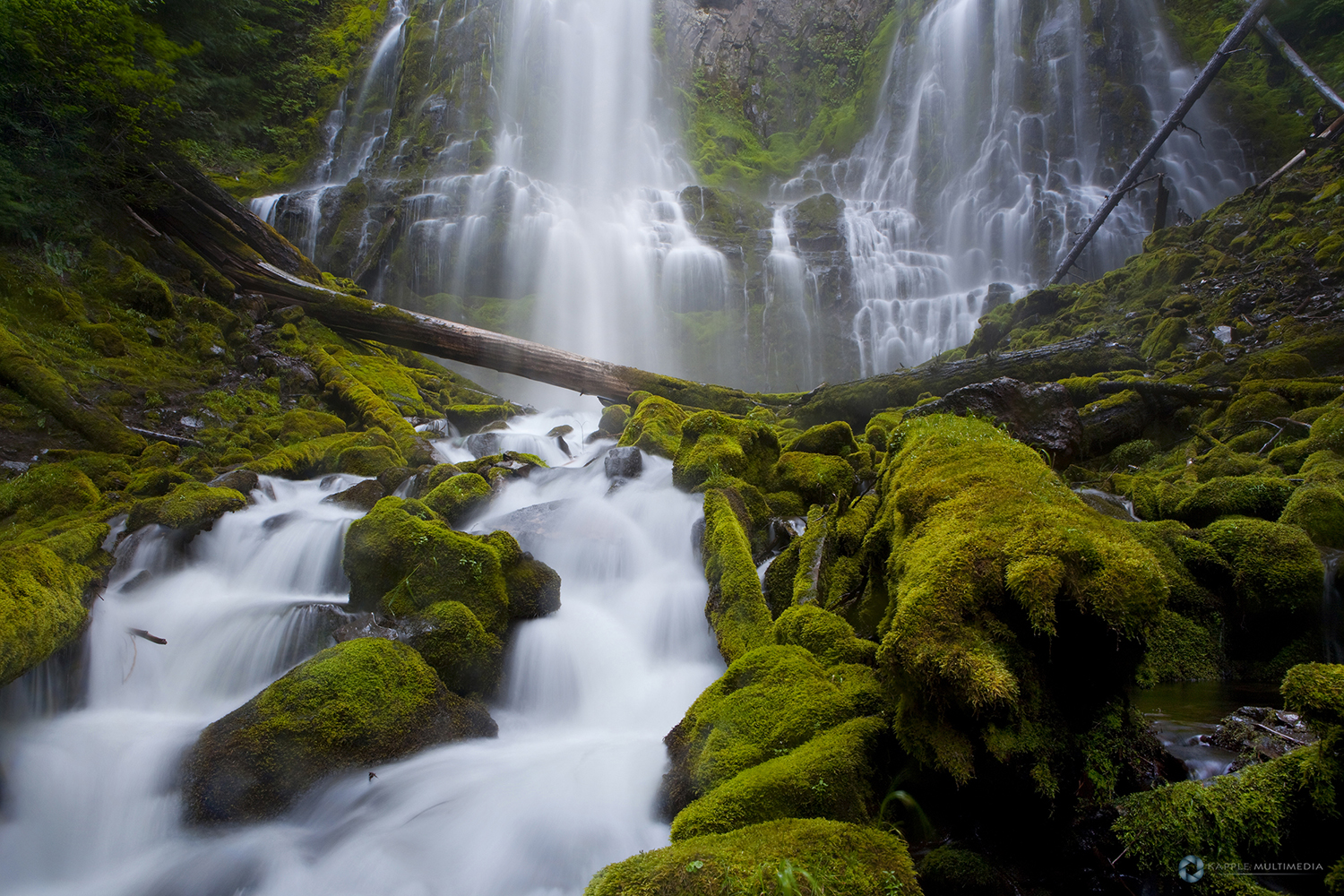 GPS locations:
Bridal Veil Falls: 45°33'15.8″N 122°10'48.6″W
Falls Creek Falls: 45°54'34.0″N 121°54'48.6″W
Horsetail Falls: 45°35'22.4″N 122°04'07.2″W
Latourell Falls: 45°32'13.3″N 122°13'05.1″W
Lewis River Falls: 46°09'16.8″N 121°52'49.2″W
Metlako Falls: 45°37'42.3″N 121°53'57.7″W
Panther Creek Falls: 45°52'01.4″N 121°49'43.7″W
Ponytail Falls: 45°35'22.6″N 122°04'06.8″W
Proxy Falls: 44°09'42.5″N 121°55'39.6″W
Punchbowl Falls: 45°37'17.6″N 121°53'39.8″W
Wahclella Falls: 45°37'04.0″N 121°57'04.8″W